After much debate, I decided to jump into the ultimate blog party ...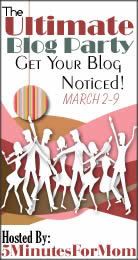 I have joined the party a bit late, but well, better late than never!
So welcome to my blog! I am Brandie, wife to one very great guy and mommy to 3 darling children.
I also happen to homeschool the children, sometimes it keeps me pretty busy, but other times we take breaks from school and just play (although often times I find my kids learn more during those breaks than sitting at the table doing "work").
Pull up a chair and have a seat. We just moved, so pardon the mess. And as you can tell, my living room has no furniture in it yet. That's okay. I like to sit at the breakfast bar myself - my computer is there, I can watch the tv, and enjoy a nice can of coca-cola (my favorite drink).
Since this is a party, I
made
bought a nice cheesecake to share. As you can tell, I have already sampled it - well, I had to make sure it was okay for comapny - and it tastes wonderful.
More about me ...
I enjoy reading and knitting.
I also like to sew, quilt, scrapbook, well, I'm not sure there's a craft out there I don't enjoy. As well, I love singing and often sing around the house ... these days you'd hear me singing this:
I love having this blog. I love having a place to come and write and talk about whatever I want to. I love having a place to go to where I can just write, and "talk", and ramble. And even more than writing in my blog, I LOVE reading other blogs. There are so many great blogs out there - ones that make me laugh, cry, think, etc, etc.
Welcome to my blog. Feel free to drop a note to me in my comments or via e-mail at Brandie185 at gmail dot come. And come back again soon!